The Mayapuris Music Video Premieres May 19th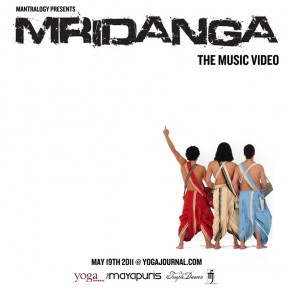 MRIDANGA MUSIC VIDEO TO PREMIERE ON YOGAJOURNAL.COM MAY 19TH
Cross-over world music sensation and performance art troupe, The Mayapuris are to release a music video to showcase the title track of their hit album Mridanga (2010) which reached #7 on the iTunes world music chart the first week of its release. The video imbibes the dual nature that makes the Mayapuris unique: spunky and youthful with a new spin on the centuries-old chant culture of ancient India, kirtan. Their instrument of choice: the mridanga drum, a hand instrument invented over five hundred years ago and is a portable alternative to its well-known cousin, the tabla.
"Why the obsession with the mridanga?" asks Krishna Kishor (vocalist, flutist, drummer), "It was invented by Chaitanya, who revolutionized kirtan by bringing it out from the temples and into the streets for everyone to take part in. Through him we want to keep the revolution going. So…got to keep drumming." In the video The Mayapuris are joined by The Temple Dancers consisting of Visvambhar's wife Vrinda and his sister Ganga both of whom studied the ancient art of Bharatnatyam in South India.
The band's ties to mridanga and kirtan run deep. All three of them attended boarding school in India where they learned the fundamentals of mantra music. Naming their group after the holy village of Mayapur, where the kirtan movement started, the Mayapuris returned home to Florida before signing to Mantralogy, a division of Equal Vision Records, in 2009. The title track of their first release, "Mridanga," is the rhythmic instrumental composition that, when performed live, is a dance as well as a drum ensemble. It was an aspect that the band wanted reflected in their video."We wanted it to have the energy and impact of our live performances," says Kishor, "But with a twist."
Gaura Vani and Rasa Acharya, who are both longtime friends of the band members and co-owners of their record label, Mantralogy, had ties to the movie industry and were eager to bring a fresh visual representation of the artform to the Mantra Music scene."The Mayapuris are vibrant and fun people," says Acharya who, alongside Vani, produced and directed the video, "It would be hard to not capture their spirit on camera."
Visvambhar, lead-vocalist and drummer says, "I believe in kirtan. I believe people naturally want to give something–to sing and partake in mantra chanting. I see the Mantra Music scene growing every day in a big way. The video will add a new dimension to all of it as we begin to recognize chant culture as something much bigger than music."
The video will premiere May 19th on YogaJournal.com and will later be viewable on YouTube, Facebook, Mayapuris.com and Mantralogy.com.