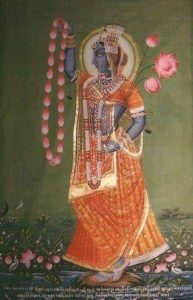 When we chant with attention, we find ourselves in a place of inner peace and connection: connection to satsangha and to Divine presence. The repetition of the Names is a heart-mind healing salve and those in the chanting community both relish it and dedicate their lives to this practice. It is both the goal and path by which the goal is found.
The practice of chanting is there for us in times of happiness and sorrow, triumph and pain. May we relish the moment of grace, when for no reason at all, our full attention is called back to the Names. May we reside forever in the sacred place of satsangha. May we find one another, with hearts full of gratitude, again and again.
Jahhavi- Like A River to the Sea-Click here to see the music video!
"harer-nama harer-nama harer-namaiva kevalam kalau nasty-eva nasty-eva nasty-eva gatir anyatha"
'Harinama, Harinama, Harinama is the only and foremost means to achieve emancipation. There is no other way, no other way, no other way in this age of Kali.
please consider making a year end donation to save Yamuna Devi!
Save The Yamuna Campaign