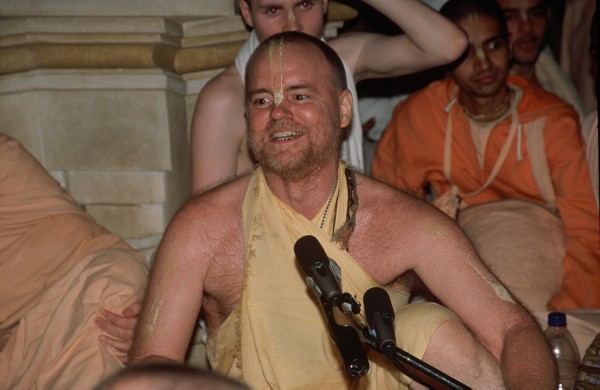 With extreme anguish we inform the world of the disappearance of His Grace Aindra Prabhu on the night of July 16, 2010 in Vrindavan India. Sri Aindra Prabhu was the leader of the 24 Hour Kirtan in Vrindavan since 1986 which constantly chants the Maha Mantra 24 hours a day, 365 days a year.
Sri Aindra Prabhu was a inspiration to thousands of kirtaniyas and a spiritual guide to many. His importance and contribution to the kirtan movement will become more and more recognized and appreciated in the time to come. At this time we ask everyone to try and attend a kirtan within the next 48 hours to remember Sri Aindra Prabhu and appreciate his departure from this world.
He reasons ill who says that Vaisnavas die,
When thou art living still in sound!
The Vaisnavas die to live, and living try
To spread the holy name around.
-Bhaktivinode Thakur
Listen to a few Aindra Prabhu kirtans below. More can be downloaded on GauraVani.com.