Prema Hara's Second Album Releases on April 12th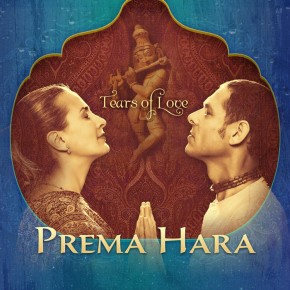 Mantralogy is excited to announce the release of Prema Hara's second album, Tears of Love on April 12th, 2011. Pre-orders will begin soon on the Mantralogy store.
Tears of Love is both a memory and a new exotic taste; a journey through the villages of India and back, to where mantra music blends to meet the western world. At once rhythmic and melodic, grounding, yet uplifting, Tears of Love brings new relevance to the age-old devotional chant culture now burgeoning within yoga and ethnic music communities around the world. Keshavacharya's chants are deep and meditative, Kamaniya's, silvery and soothing. Both meld to the smooth beat of the mridanga and tabla drums. The album features master musicians Steve Gorn on bansuri flute and clarinet and Benjy Wertheimer on the traditional Indian esraj, as well as a remix influence from New York City's conscious rap artist Srikala. Tears of Love imbibes the energy of a live kirtan concert experience: melodious, energetic and utterly infectious.
Since their last release, Sweet Surrender, Prema Hara has traveled across the country on three tours, quickly gaining recognition as one of the West's most prominent kirtan bands. The band is a regular at distinguished kirtan music venues on both coasts, including Jivamukti Yoga (NYC) and Bhakti Yoga Shala (LA), as well as at heavily attended music festivals such as Bhakti Fest and World Peace & Yoga Jubilee.
Prema Hara is currently on tour along the East Coast, from New York to Florida and then through Alabama, Mississippi, Texas and Arizona to arrive for their album release party at the Spring Bhakti Fest. After their album release party they will continue touring through California and then on to the Mid-West finally returning to their base in New York in late May.
For more information about Tears of Love and Prema Hara's tour schedule, visit www.mantralogy.com and www.premahara.com.