Prema Hara hits #15 on iTunes World Chart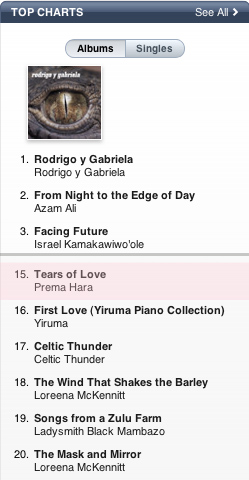 Released today, the auspicious birthday of Sri Rama (see Gaura Vani's great email about that), Prema Hara's new album Tears of Love is currently at #15 on the iTunes World Music charts.
Thank you to everyone for supporting their beautiful offering. If you purchased the album on iTunes please leave a comment on iTunes to let everyone know how you like it.
The Spirit Voyage Blog praised the release by saying "With Tears of Love, Prema Hara has secured their place as one of the greatest new Sanskrit kirtan groups today."
Prema Hara will be at the Spring Bhakti Fest Ommersion festival this weekend in Joshua Tree California. Check out their tour schedule for more info.
Also, you still have a chance to win a free iPod Nano plus a copy of Tears of Love. Instructions on how to enter the contest are on Prema Hara's Facebook.