Festival Cancels Fee – 24 Hour Kirtan In Honor of Aindra Prabhu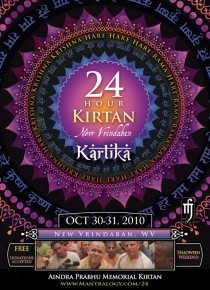 Only 3 weeks remain till the Kartik 24 Hour Kirtan taking place on October 30th and 31st in New Vrindavan, near Wheeling, West Virginia. This Autumn version of the well-known Summer event is happening for the second year in a row. 24 hours of Hare Krishna Mantra kirtan will continue without stopping 12 noon on Saturday till Sunday at 12 noon.
Some of the Kirtan leaders who chanting at this event are: Visvambhar (Mayapuris), Acyuta Gopi, Ananta Govinda and Gaura Vani (As Kindred Spirits), Sarvajay Gauranga (Potomac, MD), Krishna Prasad (Baltimore), Ayush (a 12 year old boy from Seattle who's taking the world of kirtan by storm), Jagannath "Jagi" Kirtan (Alachua, FL) as well as many other beautiful chanters from around the country and the world. This event is being produced again by Mantralogy (the company created to promote kirtan and the kirtan lifestyle) along with the community of devotees in New Vrindavan (one of the oldest and most beautiful farm communities in the Hare Krishna Movement).
Since the first announcement of this kirtan and it's intention to honor the passing of well-known and loved kirtan leader Aindra Prabhu in Vrindavan India there has been a growing concern about the festival fees proposed by the producers, Mantralogy and New Vrindavan ISKCON. Some feel that this may cause individuals to feel excluded if they are unable to pay the requested fee. In response to this concern and in an attempt to properly honor Aindra Prabhu's mood of making kirtan available to all, the producers have decided to drop the plan to charge any festival fees and the kirtans and prasad will be made available to everyone.
These fees were intended to be optional and based on people's ability to support this event. They would have gone to cover the costs of running the festival including providing prasad, equipment costs, travel and donations for kirtan leaders, payment for vital staff (cooks, cleaning services, drivers, recording services, running sound and web broadcast, web archive of kirtans, etc.), and any other support services. This larger Summer event was run in the same manner. These funds are now being raised independently by Mantralogy and the New Vrindavan devotees. Donations are welcome and needed to help support the festival.
Accommodations info can be found at here and www.NewVrindaban.com.