Mridanga Moves up iTunes World Chart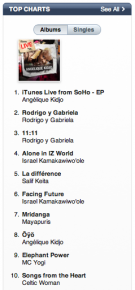 The Mayapuris debut album Mridanga (CD | iTunes) climbed the iTunes World Music charts today arriving at #7.  Generally in the music industry, album sales decline after the initial release week, but the Maypuris sales have only gotten stronger.
We would like to congratulate The Mayapuris on the success of the first two weeks of their album release and we thank you all for supporting them and spreading the word! For all of you waiting to purchase their album on the International iTunes store, it will be available in one week from today.