Mantralogy to Bring Mantra Music to SXSW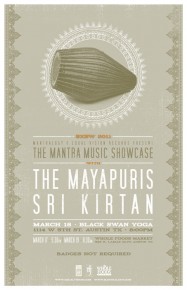 MANTRALOGY TEAMS UP WITH WHOLE FOODS TO BRING A PIECE OF OM TO AUSTIN, TX
Mantralogy will bring fresh vibes to South by South West 2011 (SXSW), with their youthful brand of Mantra Music and clothing. The imprint label, of legendary rock label Equal Vision Records, promises to bring something new, something different – and something peaceful to the festival. Mantralogy will focus on their ultimate goal of uplifting and positively transforming the foundation of people's hearts through music, lifestyle products, and events that support the growing culture of sacred music.
For their debut SXSW appearance, Mantralogy has teamed up with Whole Foods Market and local yoga studio, Black Swan, to host a string of showcases and events. "We intend to offer a peaceful breather during the non-stop rock marathon," states Mantralogy and Equal Vision Records' owner, Steve Reddy. "We want to create a place at SXSW for music industry people to share their love of music and yoga."
Whole Foods Market representative Richard Gabaree adds, "The wondrous sights, sounds, smells and activity in the store make each trip to Whole Foods Market Lamar a tour of discovery. We are so excited to add Mantralogy to our list of events during SXSW and look forward to their contribution to our guests' experience."
Mantralogy artists, The Mayapuris, will be performing at Whole Foods on Thursday, March 17 at 5:30pm and at Black Swan Yoga on Friday, March 18 at 8:00pm, joined by labelmates, SRI Kirtan. SRI Kirtan will also be performing at whole foods on Saturday March 19 from 12:00pm – 2:00pm.
The Mayapuris, kirtan's youthful breakout band, have been touring non-stop behind their debut album Mridanga touching six continents including stops at Wanderlust (alongside Moby), The Bhakti Fest, Princeton University and Jivamukti NYC. SRI Kirtan bring a fresh sound to the Mantra Music scene combining a variety of western instruments and styles with traditional chants and melodies. Their second album, Live Your Love, recently debuted at No. 10 on the Billboard World Music Chart.
Mantralogy combines an edgy, punk rock attitude and underground DIY ethos with the ancient uplifting philosophies and culture of spirituality, yoga, conscious living and Mantra Music. Mantra Music, or Kirtan, is an ancient form of music heard in yoga classes around the world.
No badges required. Black Swan showcase admission by donation.
Mar 17  Whole Foods – Mayapuris @ 5:30pm – 6:30pm
Mar 18  Black Swan Yoga – SRI Kirtan / Mayapuris @ 8pm
Mar 19 Whole Foods – SRI Kirtan @ 12pm – 2pm
Whole Foods Market
525 N Lamar Blvd.
Austin, TX 78703

Black Swan Yoga
1114 W 5th St
Ste 202
Austin, TX 78703