Mantralogy signs SRI Kirtan to release 'Live Your Love'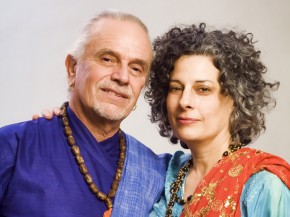 Mantralogy would like to welcome SRI Kirtan to our family of exceptional kirtan artists! Exploding out of Woodstock, New York, off the strength of their debut album Fire of Devotion SRI Kirtan have gained fans and accolades for their signature style of passionate, heart-opening kirtan. The duo interweaves their majestic harmonies with spirited instrumentation from talented musicians to create a music that uplifts the spirit and nourishes the soul.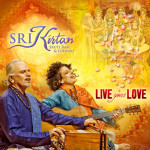 Their second album Live Your Love (to be released by Mantralogy on 10/26/10) melds Sanskrit mantras, country folk, gospel choirs and hip-hop beats creating sacred vibrations that force you to sing along. With some of the catchiest tunes ever heard in this genre, Live Your Love is set to become a milestone in the growing kirtan/chant scene.
SRI Kirtan is Sruti Ram and Iswari both classically trained accomplished musicians. Sruti Ram has sung kirtan as his personal practice and in temples across India while Ishwari has written and performed her own music for 30 years. Upon meeting in 2004, the two recognized the powerful compatibility in their styles and one of the most exciting forces in kirtan was formed. SRI Kirtan are on an active tour schedule that includes performances at Omega's Ecstatic Chant, Kripalu Center for Yoga and Health, Jivamukti Yoga School, Integral Yoga in NYC, and the Ram Dass Satsang in Maui Hawaii.