LA Yoga Magazine Reviews Sweet Surrender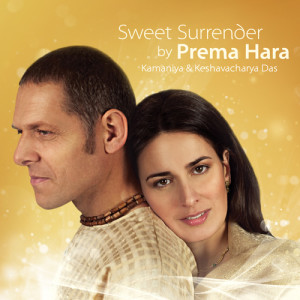 Re-posted from LA Yoga Magazine
Prema Hara is one of the latest bhakti-based kirtan bands blazing the path for us to sing from our hearts, raise our hands in the air and dance in devotion to the divine. Originally from Europe, the couple Kamaniya and Keshavacharya Das came together while living in ashrams in New York. Their first release, Sweet Surrender, is a collection of mellow, soulful and smooth traditionally-inspired kirtan tracks that give us the opportunity to dive deep into the temple of our own hearts and experience the essence of bhakti: devotion, surrender, and sweet love for the divine.
Kamaniya and Keshavacharya Das's voices masterfully alternate taking the lead and then reunite singing in divine harmony. This interweaving of vocals is reminiscent of the divine love of Radha and Krishna.
In the modern world of kirtan nearly every style of music is being infused with mantra: rock, pop, hip-hop, jazz and blues. Prema Hara sticks to traditional approach in the use of their "Indian raga-based" melodies and classical kirtan instrumentation with harmonium, mridanga, bansuri flute and kartals, giving Sweet Surrender a refreshing, deep, authentic and transcendental vibe. Each track is a shining gem, yet some have stolen my heart: "Shymasundari Radhe," "Udu Sita Ram," and "Sweet Surrender."
I have played songs from Sweet Surrender in virtually every Yoga class I have taught since I listened to the album. Produced and arranged by kirtan masterminds Gaura Vani and Bada Haridas, with performances by The Mayapuris, Surrender is a definite playlist add. I recommend Sweet Surrender for all forms of Yoga, massage, driving or a contemplative walk on the beach. Sweet Surrender exudes warmth and intimacy and undoubtedly has my vote as one of the top kirtan collections of 2010.
–– Reviewed by Govindas, co-owner/director of Bhakti Yoga Shala, a donation based yoga studio dedicated to the practices of bhakti and kirtan. Govindas and Radha's latest release Light Inside You is available at: bhaktiyogashala.com.
Sweet Surrender is available for purchase from the Mantralogy Store and iTunes.