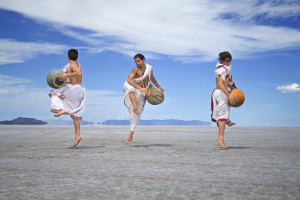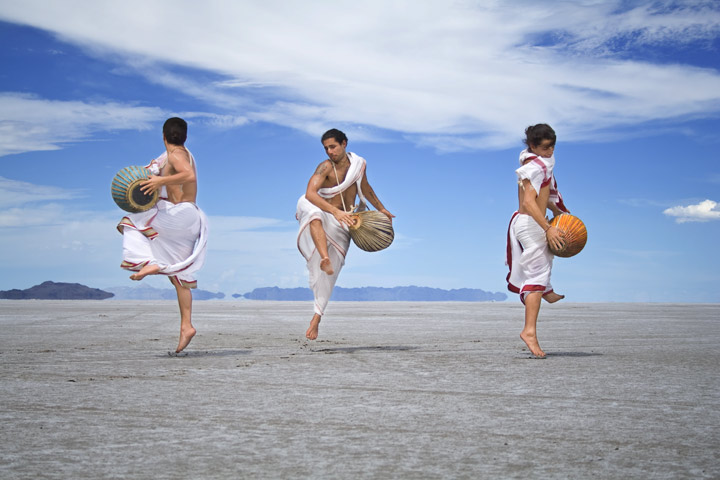 Band Members:
Visvambhar Sheth – Vocals, Harmonium
Krishna Kishor Rico – Flute, Mrdanga
Balaram Tirtha Rico – Mrdanga
Vrinda Sheth – Bharat Natyam Dance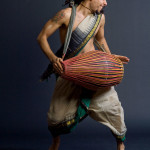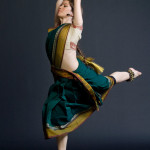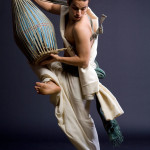 [download#16#nohits]
The Mayapuris have crash-landed into the kirtan/chant genre, quickly becoming the most talked-about group in this growing scene of exotic world music. Their story starts in the quiet backcountry of North Central Florida, Alachua, a small village-esque town known to some as the capital of the underground grassroots-kirtan movement in the West.
India 2001: The Mayapuris were teenagers fresh out of international boarding school where they trained in kirtan, a musical art form that has existed for thousands of years. They wanted the sound of their thunderous mridanga drums to shake the globe. Naming their group after the holy village of Mayapur, where the kirtan movement started, The Mayapuris traveled the world enthusing crowds with their dynamic drum dances and kirtan performances. In the summer of 2009, Mantralogy, a division of Equal Vision Records, signed The Mayapuris and placed them in the studio with kirtan producer Gaura Vani (As Kindred Spirits, Prema Hara, Ramya).  Their debut album Mridanga (June 22, 2010/Mantralogy) brings a youthful and hip new energy to kirtan.
"Rhythm is a universal language," explains the Mayapuri drummer, Bali, "It transcends all external barriers. Everything. Race, religion, tongue, creed, culture. It's the heartbeat of the universe." The Mayapuris are unique in that they all originally were drummers before they became kirtan multi-instrumentalists. Their music is driven by rhythm. It's the language they speak best.
The Mayapuris are travelers, kirtan gypsies, the breed of performers who stop keeping count of how many countries they've performed in. They hit six continents in 2009, and that was before they had a CD to call their own. After their first album drops, who knows? "There is a small village in India, about an hour outside of Mayapur that holds this prophecy. It's about two hundred years old," the lead singer Vish explains, "It says that the thunder of the mridanga drum will resonate throughout the entire world. We want to be a part of that."
The Mayapuris named their album after their shared love, the mridanga, and it is the heartbeat of their sound. Joined to its rhythm is the stirring musicianship that evolved after years of training, classical instrumentation mixed with the spontaneity of fiery vocals, a place where funk meets math and melody to produce beautiful music. Gaura Vani, accomplished producer and recording artist, captured their unique and powerful sound in the studio. "We couldn't have had a better person to work with, "Kish, the group's flute player says, "We've been doing music with Gaura since we were teens. He knows us, he gets us. He has a great ear and his arrangements are deep and tasteful. Gaura is the kind of producer who really brings the best out of the people he works with."
This is not saying that the production was an easy job. The Mayapuris come from a musical background that is as varied as it is unexpected. Vish was in a Boston hardcore punk band after returning from India. When Kish isn't studying classical Hindustani flute he's grooving to reggae. Bali was the front man and lyricist for a hip hop group while immersing himself in South Indian Carnatic drumming. And Vrinda cites Michael Jackson as one of the greatest musical/dance influences in her life (this coming from someone who studied in the 'Ivy League' of South Indian classical dance). Together they invoke the influence of an international community of musical spirit: Nusrat Fateh Ali Khan meets a 21st century group of musical upstarts.
"The great thing about world music is its accessibility." Vrinda says, "It doesn't matter where you come from, what language you speak, your cultural background. This kind of music speaks to everyone. Our goal was to make an album that reaches into that common bond the citizens of earth all share, a love for beautiful sound."
"Our music is the hybrid offspring of our upbringing," Bali adds, "Mridanga grooves, it builds, it's an ancient tradition with a fresh spirit." This is more than a kirtan album, it's a life story broken up into chapters. It represents the Mayapuris; who they are and what kind of sound they embody. "Our music is infused with emotion, with passion, love, playfulness. We've grown up with it. We live it," says Kish, "The band, the album, the shows…they are an offering. We love making music. We love being Mayapuris."
The Mayapuris tour Europe this June followed by a North American tour with stops at Wanderlust alongside Moby, The Bhakti Fest and multiple dates with Shiva Rea, renowned yoga teacher and trendsetter. Aside from musical performances, The Mayapuris lead workshops and introductions to kirtan at universities (Princeton, Rutgers, Penn State, University of Florida) and retreat centers (Kripalu, Omega).
Discography
[table id=7 /]
Booking & Publicity
Booking
Dhanya Salem
Email
Publicity
Mantralogy
Email
Links
Connect with The Mayapuris