Live Webcast and Chat from the 12 Hour Kirtan NYC
Schedule (Times are Eastern Standard Time)
| | |
| --- | --- |
| Times | Kirtan Leader(s) |
| 10:00-10:30 | Acyuta Gopi |
| 10:30-11:00 | John Kruth and Gaura Vani |
| 11:00-12:30 | H.H. Indradyumna Swami |
| 12:30-1:00 | Gopika |
| 1:00 to 1:30 | Sanga |
| 1:30 to 3:00 | Ananta Govinda |
| 3:00 to 3:30 | Kancana Mayi |
| 3:30 to 4:00 | Doyal Gauranga |
| 4:00 to 4:30 | Ishvari and Sruti Ram |
| 4:30 to 5:00 | Rasanath |
| 5:00 to 5:45 | Achyuta Gopi |
| 5:45 to 6:45 | Nama Rasa |
| 6:45 to 7:45 | Gaura Vani |
| 7:45 to 8:15 | Raghunath |
| 8:15 to 9:00 | Acyuta Gopi |
| 9:00 to 10:00 | Gaura Vani – All hands on deck |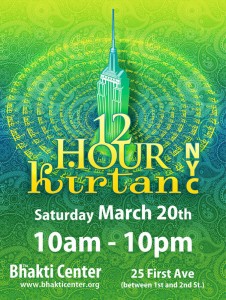 Mantralogy is proud to sponsor and produce the monthly 12 hour kirtans at the Bhakti Center NYC. Each month the kirtans features a theme of a current event, world situation or conscious prayer. Join us each month to celebrate 12 hours of kirtan featuring some of the world's most talented kirtaniyas as well as lesser known but equally as transformative singers.
Mantralogy's team also broadcasts video live via the internet during the event. Visit Mantralogy.com to catch the live webcast on the day of the event.
Check out video and recordings from the January 2010 and February 2010 kirtans.